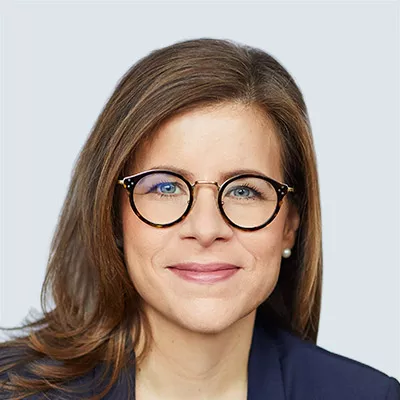 Ani Castonguay
Executive Vice-President
Public Affairs
Ani Castonguay is Executive Vice-President, Public Affairs and is responsible for optimizing CDPQ's positioning in all aspects of its business. She oversees internal and external communications, as well as business development and philanthropic activities. She is a member of the Executive Committee and sits on the Board of Espace CDPQ.
Ms. Castonguay's career at CDPQ began in 2009 as a Director, then Vice-President, in the Office of the President and Chief Executive Officer, before leading the Public Affairs department. Throughout her career, she has worked for large public and private organizations, recognized both nationally and internationally. First at Bombardier, and later at BCE, she was actively involved in the communications surrounding several major files, developing solid expertise in crisis management and change management in complex environments. She notably played a key role in the strategic communications associated with BCE's proposed privatization in 2007‑2008.
She holds a Bachelor of Communications from Université du Québec à Montréal and a Master of International Communications from the School of International Service at American University in Washington, D.C.
CONNECTIONS
Ms. Castonguay sits on the Boards of Directors of the Montreal Council on Foreign Relations (MCFR), the Fonds de recherche du Québec – Société et culture and Montreal Children's Hospital Foundation. In 2020, she was a recipient of Canada's Most Powerful Women: Top 100 Award from WXN. A clear and compelling communicator, Ani also hosts public events involving many leaders from the Montreal business community.