The Caisse de dépôt et placement du Québec earned a 14.6% weighted averaged return on depositors' funds in 2006, which represents $17.8 billion of net investment income.
This 14.6% return places the Caisse in the first quartile of large Canadian pension funds for the third straight year.
The value added by active management of the Caisse's investments in 2006 amounted to a historic high $2.0 billion.
The individual returns for the main depositors range from 12.5% to 16.3%. This range of returns illustrates the diversified requirements of the depositors, which have individual investment policies based on their objectives. For example, the proportion of bonds in the portfolio varies greatly from one depositor to another.
The return in 2006, 2005 and 2004 was 14.6%. 14.7% and 12.2% respectively. Over this three-year period, the return is 13.8%, a performance achieved by only 5% of large Canadian pension funds according to a survey by RBC Dexia Investor Services.
"These excellent results are the outcome of a sustained collective effort by all our employees, the management team, the members of the Board of Directors and the depositors," stated Mr. Henri-Paul Rousseau, President and Chief Executive Officer of the Caisse.
$2.0 BILLION OF VALUE ADDED
In 2006, with active management of each of its 18 specialized portfolios, the Caisse generated $2.0 billion of value added in relation to the market indexes. Value added is the difference between the 14.6% return earned by the Caisse and the 12.7% return on the market indexes.
"Value added was 1.9% in 2006, mainly because of the outstanding returns on the Canadian Equity portfolio, the Private Equity portfolio, asset allocation operations and the Real Estate portfolio," Mr. Rousseau commented. "It is clear that, without the value added by the Caisse's teams, the 2006 return would not have ranked in the first quartile."
"Each of the Caisse's investment groups contributed positively to value added in 2006, and all depositors with a diversified portfolio benefited from positive value added," Mr. Rousseau added.
THREE-YEAR FINANCIAL PERFORMANCE
Over a three-year period, net assets are up from $89.4 billion to $143.5 billion, for an increase of $54.1 billion, of which $43.8 billion, or 81%, is net investment income. This amount gave the depositors a combined total return of 47.4% over three years.
With value added of 1.9% in 2006, 1.8% in 2005 and 1% in 2004, the total value added for three years is $4.1 billion, net of operating expenses.
false
false
false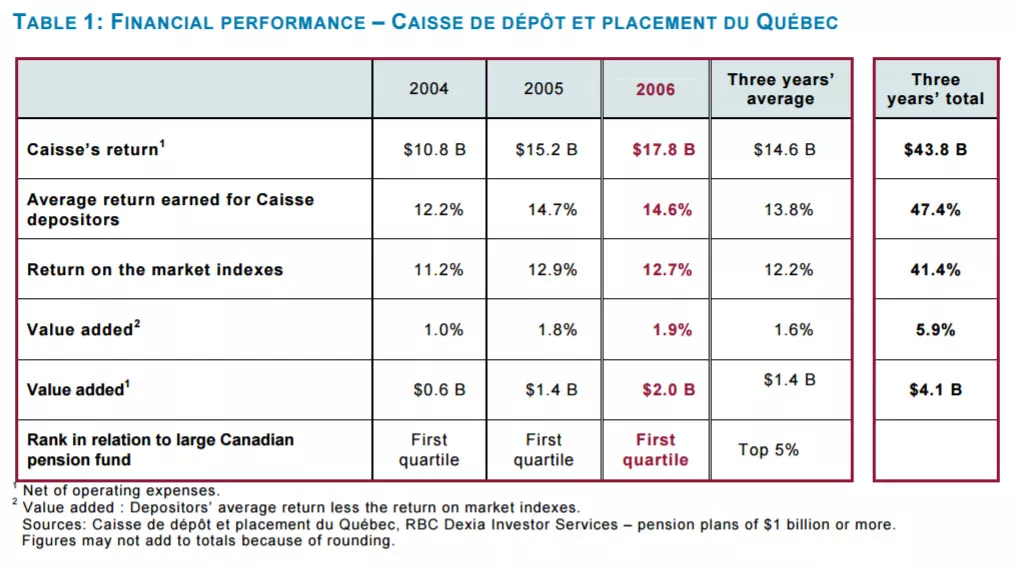 RETURN OUTLOOK
Since December 31, 2003, in agreement with the depositors, the Caisse has been changing its asset allocation to generate returns superior to those offered by bonds and to diversify its risk. It has therefore increased its investments in real estate, private equity, infrastructures, real estate debt, hedge funds, commodities and emerging market equities. From 2003 to 2006, the proportion of these investments increased from 20.6% to 35.6% of the Caisse's net assets.
"These changes to the investment policies, the efforts made to improve our performance and the behaviour of the markets have enabled the Caisse to earn a 13.8% average return over the past three years. Such a return is not sustainable over the long term, however. We expect the Caisse's return to be about 7% on a 10-year horizon," Mr. Rousseau stated.
DEPOSITORS' NET ASSETS UP $21.3 BILLION TO $143.5 BILLION
As at December 31, 2006, depositors' net assets totalled $143.5 billion, versus $122.2 billion in 2005, for an increase of $21.3 billion. Of that amount, $17.8 billion is net investment income and $3.5 billion is net deposits made by the depositors.
Depositors' total assets, consisting of $143.5 billion of depositors' net assets and $64.4 billion of assets financed by borrowing, amounted to $207.9 billion as at December 31, 2006. Assets financed by borrowing enable the Caisse to optimize its returns, especially in liquid markets and real estate.
The Caisse's total assets under management, which includes depositors' total assets of $207.9 billion and assets under management or administration for third parties in the amount of $29.4 billion, rose to $237.3 billion as at December 31, 2006.
false
false
false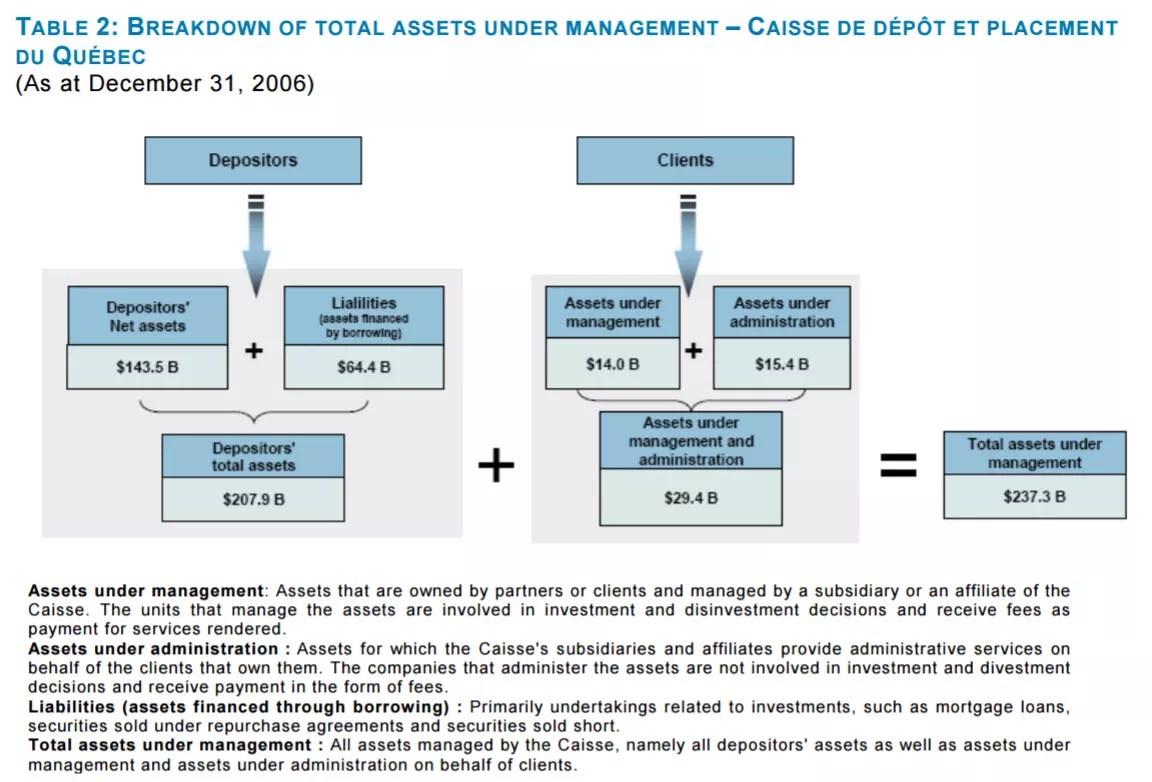 OPERATING EXPENSES AND OPERATIONAL EFFICIENCY
For 2006, the Caisse's operating expenses totalled $262 million, an increase of $23 million from the previous year. Expressed in cents per $100 of average net assets, operating expenses were 20.1 cents in 2006, versus 21.5 cents in 2005 and 22.6 cents in 2004. This situation is the result of an increase in average net assets and careful management of operating expenses.
false
false
false
AUDITED FINANCIAL STATEMENTS
The combined financial statements audited by the Auditor General of Québec are available on the website at: www.lacaisse.com.
false
false
false