Faced with the worst market in 50 years, CDPQ posted a -5.6% return in 2022 and outperformed its benchmark portfolio with over $10 billion in value added
CDPQ today presented its financial results for the year ended December 31, 2022. The weighted-average return on its depositors' funds was -5.6% in 2022, compared with -8.3% for the benchmark portfolio, representing over $10 billion in value added. Over five years, the annualized return was 5.8%, above the 4.9% of the benchmark portfolio and producing nearly $18 billion in value added. Over ten years, the annualized return was 8.0%, also higher than its benchmark portfolio which stood at 7.0%, generating $30 billion in value added. As at December 31, 2022, CDPQ's net assets totalled $402 billion.
CDPQ manages the funds of 48 depositors and the one-, five- and ten-year returns presented as at December 31, 2022, represent the weighted average of these funds. Each CDPQ depositor has its own investment horizon and tolerance for risk. As such, their results vary based on their investment policies, which evolve over time. In 2022, the spread in the returns for CDPQ's eight main depositors was especially wide, ranging from -3.9% to -8.0% for one year, all above their respective benchmarks.
"The year 2022 provided an environment filled with several challenges, with spiking inflation, historic interest rate hikes by central banks and rising geopolitical tensions. The first half of the year was marked by the worst concurrent correction in the stock and bond markets in 50 years, which posted negative returns from -10% to -30%. In this unusual context, and with few places for investors to hide, all of our asset classes outpaced their respective indexes," explained Charles Emond, President and Chief Executive Officer of CDPQ.
"For a second straight year, but in strongly contrasting market environments, we outperformed our benchmark portfolio. The strategic initiatives we undertook in recent years and our disciplined execution created value added performance for our clients. These two factors combined with our sound diversification strategy position us well for what may come up next, as the sharp volatility—that we are still witnessing today—could persist for some time," he added.
Return highlights and achievements
The worst simultaneous correction of the stock and bond markets in 50 years affected CDPQ's portfolio in 2022. Accordingly, the $18-billion decrease in CDPQ's net assets largely results from falling values in Fixed Income, a class that experienced a sharp downturn due to the fastest monetary tightening seen in decades. In addition, while the flagship indexes of the major stock markets experienced a severe correction, the Equities class also posted a negative return, but resisted better given the preponderance of Quality stocks in the Equity Markets portfolio and the good operational performance of companies held in Private Equity. Activities in Real Estate and Infrastructure performed very well against rising inflation.
Investment results for CDPQ are $91.8 billion over five years and $201.5 billion over ten years.

Fixed Income: The class absorbs the biggest impact in light of historic interest rate hikes, but still outperforms its benchmark index due to credit activities
The cycle of rate increases was particularly rapid in 2022. The reopening of the economy, global conflicts, including the war in Ukraine, and persistent supply chain and labour market issues prompted central banks to sharply increase interest rates to slow down the historic rise in inflation. This rattled market expectations: in the United States, the Federal Reserve increased its target rate from 0.25% to 4.5% during the year 2022, even though it had planned an increase to only 1.0% following its December 2021 forecast. In this context, CDPQ recorded a -14.9% one-year return in Fixed Income, above its benchmark index's -16.4%. The higher duration in the Fixed Income portfolios, which allows for better diversification and better matching with depositor liabilities, was favourable in recent years, but affected 2022 performance in an environment of rising rates. The $2.3 billion in value added generated in 2022 stems from all credit mandates, particularly Sovereign Credit and Corporate Credit. The Fixed Income class posted an annualized five-year return of 0.5%, above its benchmark index's -0.5%. All five credit mandates also contributed to this performance.
Furthermore, the 2022 market environment presented a good number of opportunities at attractive entry rates, and the teams made more than $15 billion in private credit investments and commitments. Included among them, in Infrastructure Financing, was a stake in a loan of USD 400 million to Fundamental Renewables, a U.S. lender focused on clean energy projects. With its contribution to EUR 485 million in financing, CDPQ also supported KKR & Co.'s acquisition of Albioma SA, a French energy producer that aims to end coal use by 2025. This is also the first transaction for CDPQ's $10-billion transition envelope dedicated to decarbonizing the heaviest-emitting sectors. In Corporate Credit, we note a loan to support the growth of Eqwal, a network of orthotics offices in France. In addition, in Real Estate Debt, CDPQ's subsidiary Otéra Capital continued to deploy in the United States through a loan as part of USD 675 million in total financing granted for the construction of the highest tower in Texas, a mixed-use real estate project that is aiming for LEED Gold and WELL Bronze certifications, among others.
Real Assets: Excellent performance by the Real Estate and Infrastructure portfolios despite inflation
The one-year return of the Real Assets class, which includes the Real Estate and Infrastructure portfolios, was 12.0%, well above the 5.2% of its benchmark index. The class also demonstrated its diversifying role, which limited inflation's impact on the total portfolio. Over five years, the annualized return was 5.4%, below its index's 6.2%, due to the impact of the pandemic on the Real Estate portfolio at the beginning of 2020, particularly in the shopping centres sector. The Infrastructure portfolio continued to perform well over the period.
Real Estate
For one year, the Real Estate portfolio recorded a return of 12.4%, significantly above its benchmark index's 9.2%, driven by the CDPQ real estate subsidiary's repositioning in 2020 toward more promising sectors, including logistics. The residential sector also contributed positively to performance, while the office sector continues to undergo a significant transformation. Over five years, the annualized return was 2.3%, below the index's 5.3%, due to the historic prevalence of shopping centres in the portfolio, which now represent its smallest sector.
During the year, the Ivanhoé Cambridge teams were active, with over 70 acquisitions and sales totalling $15 billion, in sectors aligned with its strategic repositioning. For example, in Australia, the real estate subsidiary partnered with Scape in an investment of nearly AUD 1 billion in the student housing sector. In Germany, Ivanhoé Cambridge concluded a strategic partnership with NVELOP, a logistics real estate specialist, on two transactions totalling over one million square feet. Lastly, Ivanhoé Cambridge invested in Cohabs, a Brussels-based company specialized in coliving in Europe and the United States.
Infrastructure
The Infrastructure portfolio posted a one-year return of 11.5%, strongly outpacing its benchmark index, which posted 0.8%. The difference represents over $4 billion in value added and can be explained by the good performance of transportation and renewable energy assets. Over five years, the portfolio produced an annualized return of 9.8%, above its benchmark portfolio, which stood at 7.2%. This performance results from the portfolio's exposure to growth sectors, particularly renewable energy.
In 2022, the Infrastructure team continued to rigorously deploy in a fiercely competitive market for quality assets. It made $10 billion in new investments and commitments, and expanded its global reach. Among them is a first investment in Japan, in Shizen Energy, a renewable energy leader in the country, that could ultimately total USD 474 million. In Europe, CDPQ also enhanced its positioning in sustainable mobility with the acquisition of Akiem, the leading provider of locomotive leasing services in the region. In Latin America, CDPQ acquired the power transmission network of Terna in Brazil, Peru and Uruguay for over EUR 265 million, marking the creation of a CDPQ platform dedicated to electricity transmission on the continent. Lastly, CDPQ invested USD 2.5 billion alongside longstanding partner DP World in port infrastructure in the United Arab Emirates that is well positioned to benefit from global trade routes and supply chains.
Equities: A class that resists better, with a return above the benchmarks in an atypical and volatile year
The Equities asset class, which includes the Equity Markets and Private Equity portfolios, generated a one-year return of -5.7%, above its benchmark portfolio of -6.9%. Over five years, the annualized return was 9.5%, also above the benchmark's 8.3%, with over $10 billion in value added, resulting from the robust performance of Private Equity over the period and the resilience of stocks in the Quality mandate, the largest in Equity Markets.
Equity Markets
In 2022, stock markets experienced a strong correction and showed unusual volatility. In fact, the post-pandemic upsurge in inflation, accelerated cycle of interest rate hikes and amplified geopolitical tensions caused stock markets to shed value after reaching record highs at the end of 2021. For example, the flagship U.S. S&P 500 index posted -18% in local currency in 2022.
In this extremely demanding environment, the Equity Markets portfolio's return was -11.3%, just above its benchmark index's -11.4%, despite the exit from oil production and the exclusion of the tobacco industry, which are among the only sectors to have generated strongly positive results during the year. Among the positive factors, we note the portfolio's focus on the quality of company fundamentals, with a favourable positioning in more defensive segments such as insurance, pharmaceuticals and telecommunications, as well as dynamic portfolio management during the year. In contrast, growth and emerging market stocks had a more challenging year. The 2022 performance influenced the five-year annualized return, which stood at 5.3%, below the benchmark index's 6.0%. The difference is due in part to the portfolio's low exposure to certain technology giants in the first half of the five-year period, when their stocks soared.
Private Equity
The Private Equity sector held its own against the difficult market context. The portfolio recorded a 2.8% return in 2022, above its benchmark index, which posted a neutral return of 0%. The difference is attributable in part to the growth of private company earnings and advantageous positioning in the health care and insurance sectors. Over five years, the portfolio produced an annualized return of 17.3%, higher than its benchmark portfolio's 12.0% annualized return, generating nearly $14 billion in value added. This performance also stems from the strategic themes that comprise the portfolio, including the digitization of the economy, health care and insurance, as well as the quality operational management of assets, which is even more important in times of economic uncertainty.
Québec: An active year in a slowing market, with an enhanced ambition of $100 billion in Québec assets by 2026
In 2022, CDPQ made $4.0 billion in new investments and commitments in Québec. Its total assets rose slightly to $78.4 billion, including $62.2 billion in the private sector, despite growing economic uncertainty that dampened the volume of transactions worldwide.
"In Québec, we continued to fully play our role, by executing transactions in various sectors and for companies of all sizes, and by fostering connections for our portfolio companies to help them grow here and abroad. In addition, we announced our ambition to reach $100 billion in assets by 2026. Globally, we're the most active pension fund manager in our local economy, and our presence significantly increased during the turbulent period of the last few years. Every day, our teams are at work to support Québec companies," added Charles Emond.
Among the transactions this year are investments in large companies such as Pomerleau, in which CDPQ made an additional investment of $150 million to support this construction leader's plan for growth across Canada. We also note the acquisition, alongside equal partner Fonds de solidarité FTQ, of a 65% stake in Nortera, previously called Bonduelle Americas Long Life, which specializes in processing and selling vegetables, thereby keeping the company's headquarters in Brossard. Additionally, CDPQ supported technology company Plusgrade in its acquisition of the Points platform for USD 385 million, creating a new global ancillary revenue leader for the travel industry.
CDPQ was also active among Québec SMEs, investing $10 million in modular furniture retailer, Cozey, in a round of financing totalling $15 million, to support its strategic development plan for the United States, accelerate its growth in Canada and expand its product offering. Another example is the investment in Bouthillette Parizeau, an engineering firm with numerous projects that provide solutions to fight climate change. Lastly, CDPQ invested in COREALIS Pharma, a Laval-based company that has become a North American leader in its sector.
For the Réseau express métropolitain (REM), several key steps were completed during the year, including finalizing infrastructure work and the complete electrification of the South Shore branch. In addition, dynamic testing was conducted to validate the functionality and reliability of the systems in various conditions, including in adverse winter conditions. The REM's South Shore branch is scheduled for commissioning in spring 2023.
Ivanhoé Cambridge continued to play an active role in Québec, including through the creation of a Québec hub to ensure the global management of the real estate subsidiary's investments and projects related to economic development in the different regions. In the Capitale-Nationale region, it concluded a strategic partnership with Douville, Moffet & Associés (DMA) for the redevelopment of the Laurier Québec commercial property and the densification of the site, including the acquisition by DMA of a share in three assets in the region: Laurier Québec, Édifice Champlain and Tour Frontenac. In Montréal, Ivanhoé Cambridge rolled out initiatives for the downtown's revitalization, including unveiling The Ring at Esplanade PVM. The real estate subsidiary and its partners also invested close to $200 million in Haleco, a unique project at the intersection of Old Montréal and Griffintown, which stands out for its mixed-use approach (residential, commercial and offices) and will include community housing to create a quality neighbourhood catering to residents' needs. The project also plans to obtain LEED Platinum certification and incorporates a low-energy design.
Internationally recognized expertise and sustainability approach
On January 1, 2023, CDPQ was named 2022 Fund of the Year by Global SWF, a global reference that analyzes the activities of around 400 sovereign wealth and public pension funds. CDPQ received this prestigious recognition for its global leadership among investors, its sustained investment activities in 2022, its contribution to Québec's economic development, and, more broadly, its contribution to advancing its industry, notably on ESG matters.
Among other distinctions received during the year—and a sign of its leadership in sustainable investing—CDPQ ranked first among the 59 main pension funds in the World Benchmarking Alliance's Financial System Index. This international organization measures the private sector's contribution to achieving the U.N.'s Sustainable Development Goals and published its first index in 2022 as part of COP27 in Egypt.
More details on CDPQ's sustainable investing strategy, including its progress on climate targets, the advancement of its commitments and initiatives in terms of equity, diversity and inclusion, as well as governance, will be presented in the Sustainable Investing Report published in the spring.
Financial reporting
CDPQ incurs costs to conduct its activities, including operating expenses, external management fees and transaction costs. As at December 31, 2022, the total cost for internal and external investment management is down from the prior year, standing at 48 cents per $100 of average net assets, compared with 57 cents per $100 of average net assets in 2021. CDPQ's cost ratio compares favourably with that of its peers.
The credit rating agencies reaffirmed CDPQ's investment-grade ratings with a stable outlook, namely AAA (DBRS), AAA (S&P), Aaa (Moody's) and AAA (Fitch Ratings).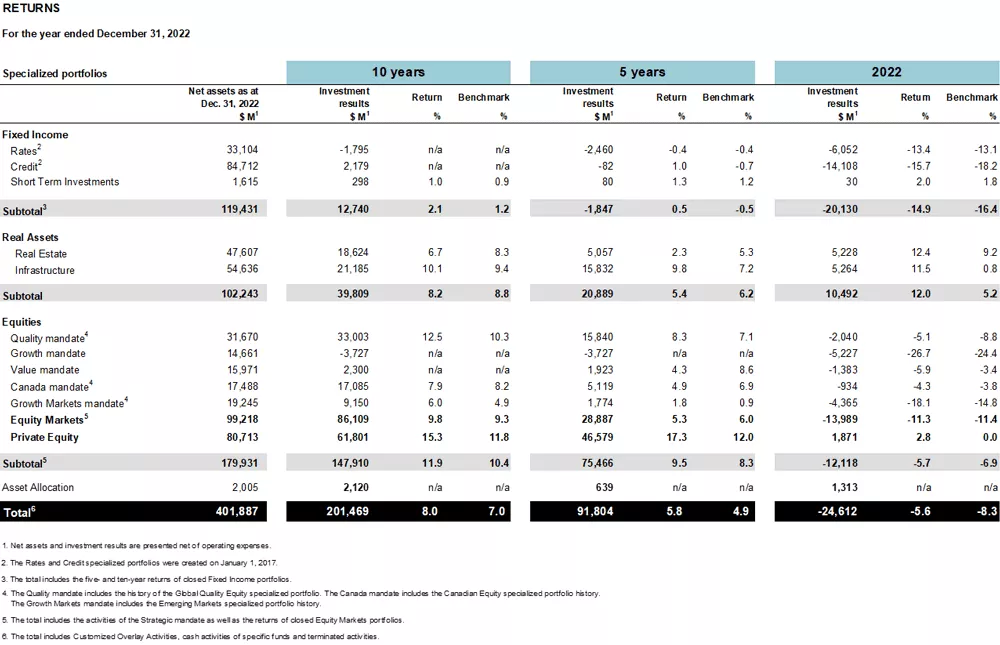 ABOUT CDPQ
At CDPQ, we invest constructively to generate sustainable returns over the long term. As a global investment group managing funds for public pension and insurance plans, we work alongside our partners to build enterprises that drive performance and progress. We are active in the major financial markets, private equity, infrastructure, real estate and private debt. As at December 31, 2022, CDPQ's net assets totalled CAD 402 billion. For more information, visit cdpq.com, follow us on Twitter or consult our Facebook or LinkedIn pages.
CDPQ is a registered trademark owned by Caisse de dépôt et placement du Québec and licensed for use by its subsidiaries.