Quality.


Resilience.

Declining global stock markets and geopolitical uncertainties put CDPQ's portfolio to the test in 2018.

The performance generated for our depositors for one year and over five years reflects the strategy we deployed in recent years to build a robust and resilient portfolio.

Which benefits all Quebecers.

Download the 2018 Annual Report
true
Net assets
as at December 31, 2018
2018 Highlights
We passed the $300-billion mark in net assets in
2018

with investments around the

world.

Overall portfolio geographical exposure
as at December 31, 2018
2018 results
4.2%
Return
Net investment results
Results over five years
8.4%
Annualized return
Net investment results
Results over ten years
9.2%
Annualized return
Net investment results
AAA
Highest credit ratings reaffirmed
The DBRS, Standard & Poor's and Moody's rating agencies have reaffirmed the credit ratings of CDPQ and CDP Financial with a stable outlook.
At the beginning of 2019, Fitch issued both an initial credit rating of AAA.
Evolution of net assets from 2009 to 2018
(in billions of dollars)
true
Results by asset class
We generate sustained returns
through key transactions in
major asset
classes.
Equities
Net assets as at December 31, 2018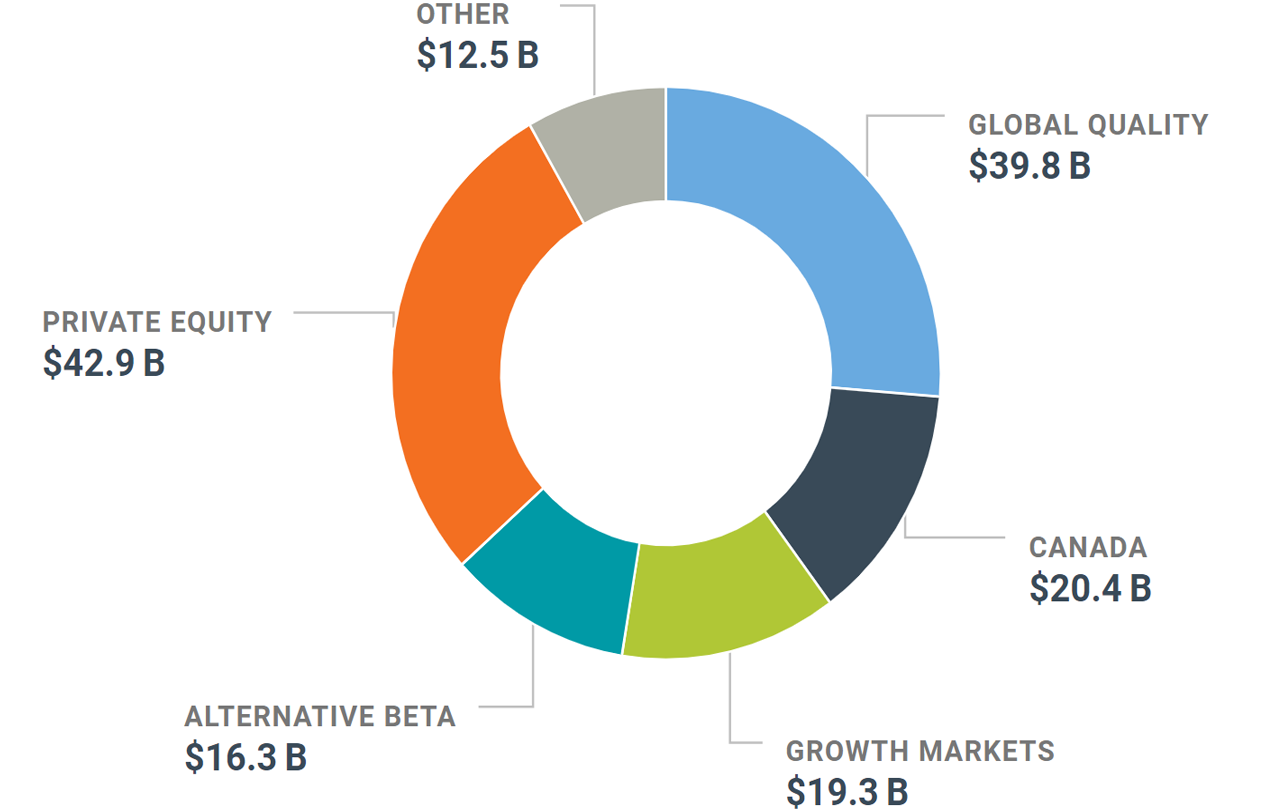 Fixed Income
Net assets as at December 31, 2018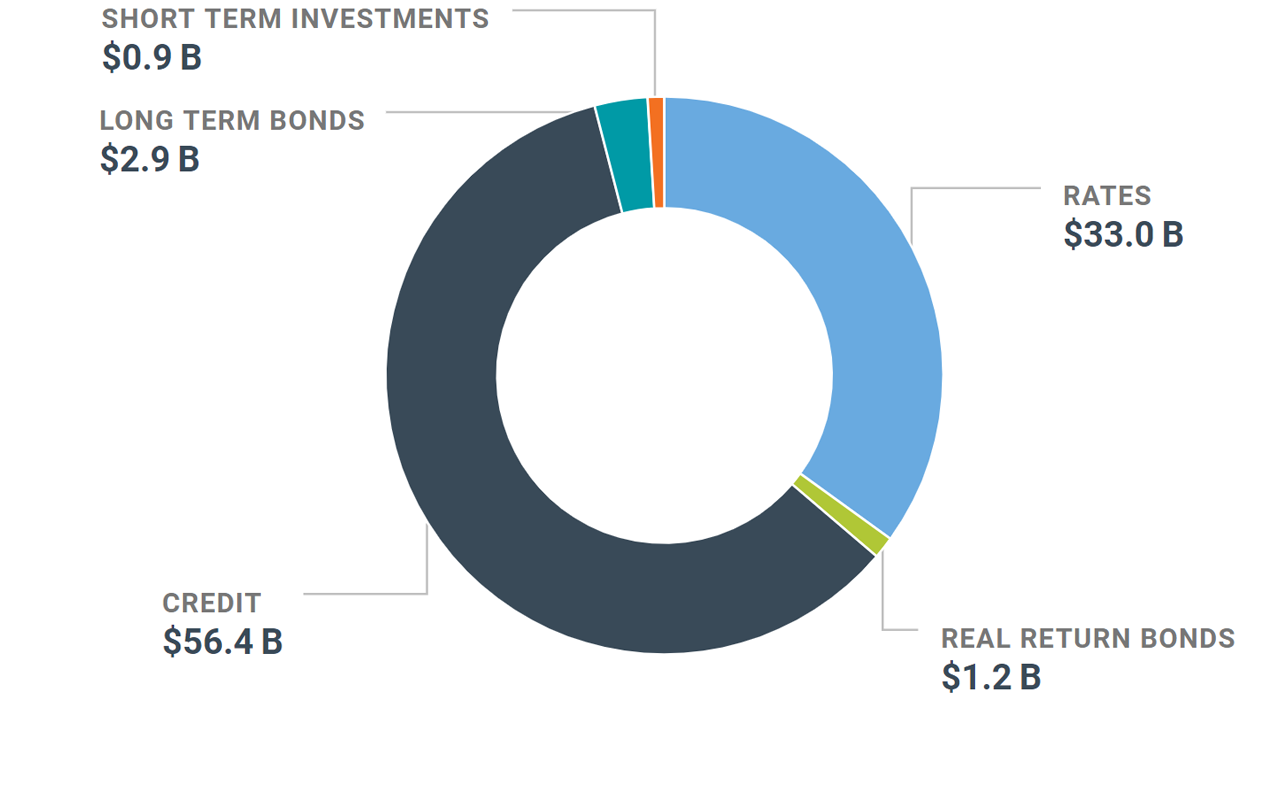 Real Assets
Net assets as at December 31, 2018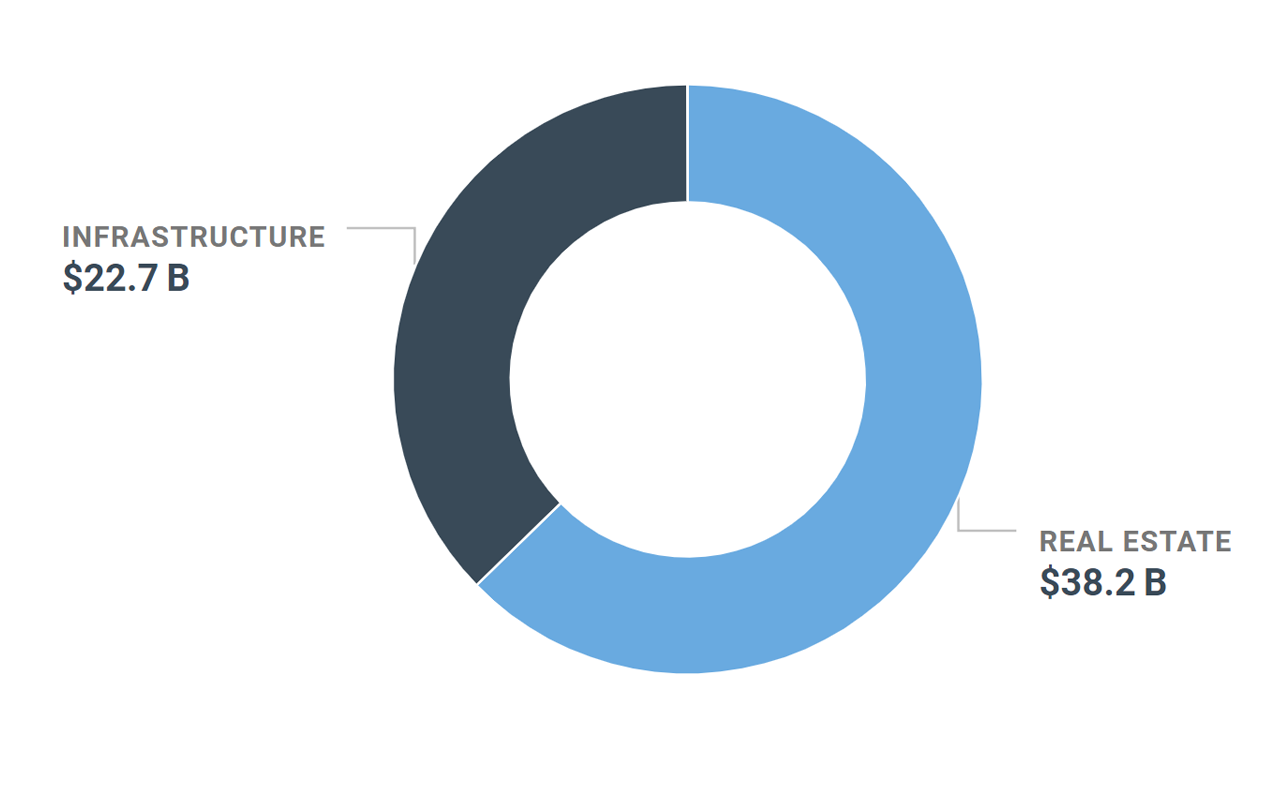 false
Long-term Partnerships
We build long-term business relationships
with knowledgeable partners.
Strong global partnerships in
2018
true
&nbsp
CDPQ-GENERATION
Creation of a US$3-billion sustainable investment partnership with Generation Investment Management
First acquisition: FNZ, a global company working in the FinTech sector
&nbsp
PROLOGIS
New partnership for Ivanhoé Cambridge with the world leader in logistics real estate
Investments of US$890 million to acquire, develop and operate logistics properties in Brazil
&nbsp
FDN AND COLOMBIAN PENSION FUNDS
Launch of an infrastructure co-investment platform in Colombia
Long-term investments of up to US$1 billion
&nbsp
ARDIAN
Private equity partner since 2006
Joint acquisition of a significant equity interest in Alvest, a leading airport ground support equipment company in France
&nbsp
TECHEM
Interest in a consortium led by Partners Group to acquire this German company, a leader in the global market for energy sub-metering services, valued at €4.6 billion
&nbsp
TILLMAN INFRASTRUCTURE
Loan of US$500 million, alongside AMP Capital, to this U.S. telecommunications infrastructure owner and operator to finance the construction of cellular towers across the United States
&nbsp
IDI LOGISTICS
Fifty-fifty partnership between Ivanhoé Cambridge and Oxford, OMERS' real estate division, for a total investment of $4.6 billion in this U.S. logistics company as well as in all of its assets
SUPPORTING THE GROWTH OF
QUÉBEC'S ECONOMY AND
COMPANIES
We help build solid projects and strong companies
that are focused on
innovation and open to the
world.
$44.3 B
Total assets
in the Québec private sector
New investments
and commitments in
2018
Close to
40%
Proportion of our transactions
carried out in the new economy in
2018
Close to
775
Number of Québec companies
that are partners, including some 685
SMEs
Our strategy's three pillars
GROWTH-CREATING PROJECTS
We design and develop major infrastructure and real estate projects and we support the renewable energy sector. These sectors generate concrete benefits for Québec's economy.
GROWTH AND GLOBALIZATION
We finance and support Québec companies of all sizes in their growth projects, both in Québec and internationally.
INNOVATION AND THE NEXT GENERATION
We contribute to the development of ecosystems, support companies that will succeed in the new economy as well as promote the vitality of entrepreneurship.
Achievements in
Québec in
2018
true
&nbsp
PLUSGRADE
Support for this global leader in travel upgrades to enter new markets and broaden its range of products
&nbsp
ESPACE CDPQ | AXE IA
Launch of Espace CDPQ | Axe IA, which will house startups from innovative sectors at Mila – Québec Artificial Intelligence Institute
&nbsp
HOPPER
Second investment in the travel application that has experienced the fastest growth in the world to support its growth and integration of AI
&nbsp
METRO SUPPLY CHAIN GROUP
Investment to support the global growth of this company that plays a major role in the e-commerce value chain
&nbsp
RÉSEAU EXPRESS MÉTROPOLITAIN (REM)
REM construction started after selecting the consortia and closing its financing
&nbsp
OCEAN GROUP
Investment for this Québec City maritime company to expand its activities in Canada and around the world
BEHIND OUR CLIENTS ARE
QUEBECERS
We invest our depositors' funds

to

benefit more than six

million Quebecers.
OUR MAIN DEPOSITORS
Snapshot of CDPQ
OUR MAIN DEPOSITORS
true
Stewardship Investing
We want to
contribute

to

addressing

society's challenges.

At CDPQ, we believe that environmental, social and governance matters should not be seen as constraints. They are an opportunity to generate sustainable growth that benefits everyone.
A few promising results
in low-carbon assets
, already exceeding our
2020 target, which we increased
-10%
of the portfolio's carbon intensity
, putting us firmly on
track to
reach our 25% reduction target by
2025
Coalition of
Leading role in the creation of the Investor Leadership Network, comprised of 12
members with over $6
trillion in
assets under management
true
All annual reports
For details on our overall results, achievements and progress for previous years, consult our annual reports.
View all annual reports
true