Bringing together capital and expertise
In 2019, investors continued to enjoy the longest market expansion in history.
With this backdrop, we generated results that exceeded our depositors' long-term needs. Our strategy also delivered significant added value over both five and ten years.
While the new decade has begun with a major crisis that will have lasting social and economic repercussions, we will continue working to keep our organization solid and our portfolio well positioned for the future.
true
Net assets
as at December 31, 2019
$340.1 B
2019 Highlights
We put capital to
work in more than 60

countries to

generate sustainable

returns.

Overall portfolio geographical exposure
as at December 31, 2019
2019 results
10.4%
Return
$31.1 B
Investment results
Results over five years
8.1%
Annualized return
$106.0 B
Investment results
Results over ten years
9.2%
Annualized return
$191.0 B
Investment results
AAA
Highest credit ratings reaffirmed
The DBRS, Fitch, Moody's and S&P rating agencies have reaffirmed the investment grade credit ratings of CDPQ and CDP Financial with a stable outlook.
---
Liquidity
CDPQ possesses enough liquidity to meet its commitments and those of its depositors, even in the event of a major market correction. This also provides flexibility to seize investment opportunities.
Growth in net assets over the last 10 years
(in billions of dollars)
true
We aim to generate returns for our clients by supporting the growth of the companies in our
portfolio.

Equities

$167.1 B

Net assets as at December 31, 2019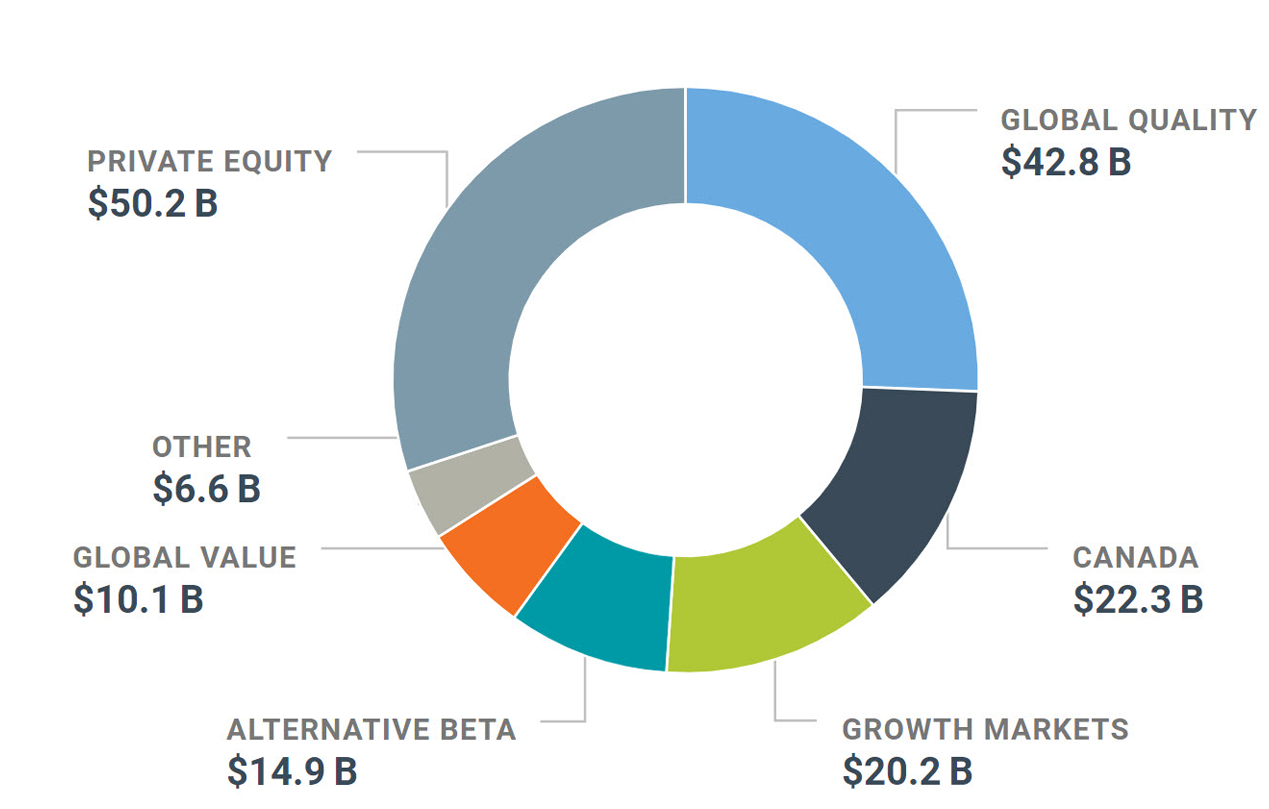 Fixed Income
$102.9 B
Net assets as at December 31, 2019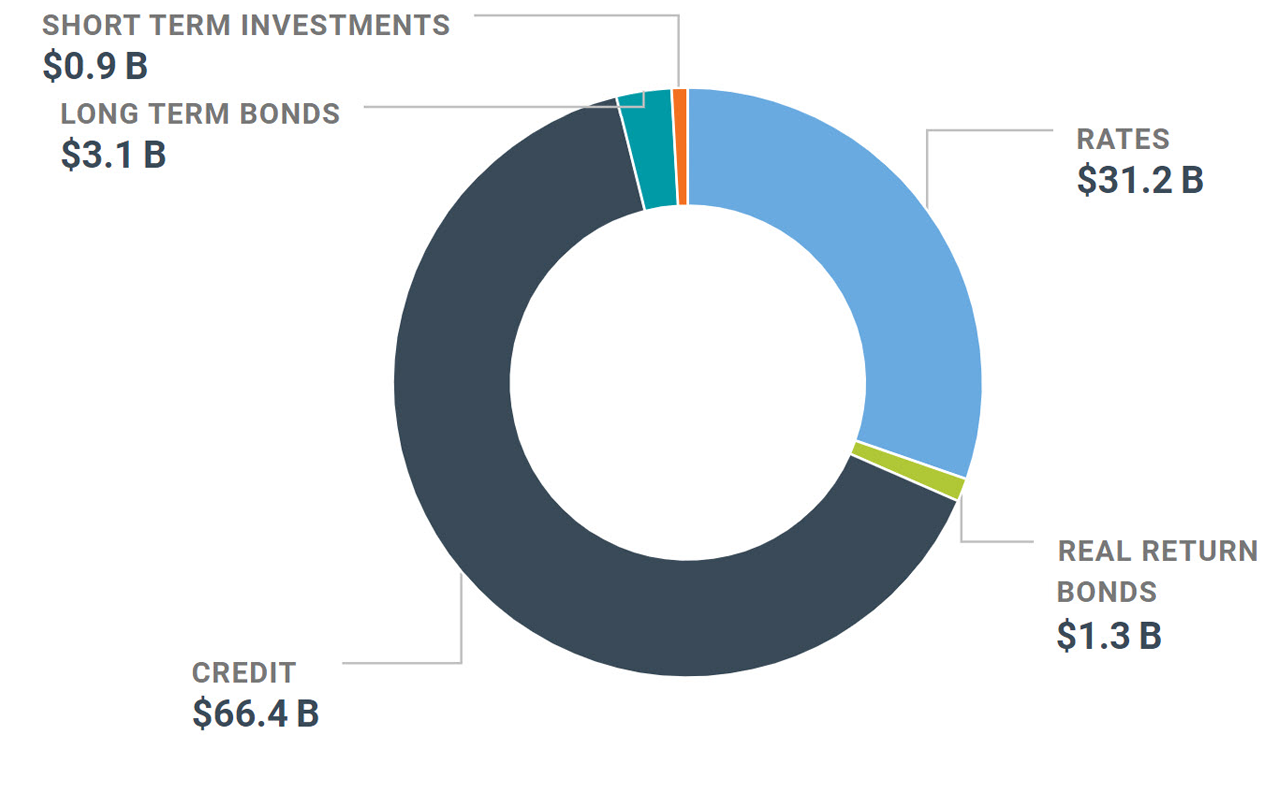 Real Assets
$67.5 B
Net assets as at December 31, 2019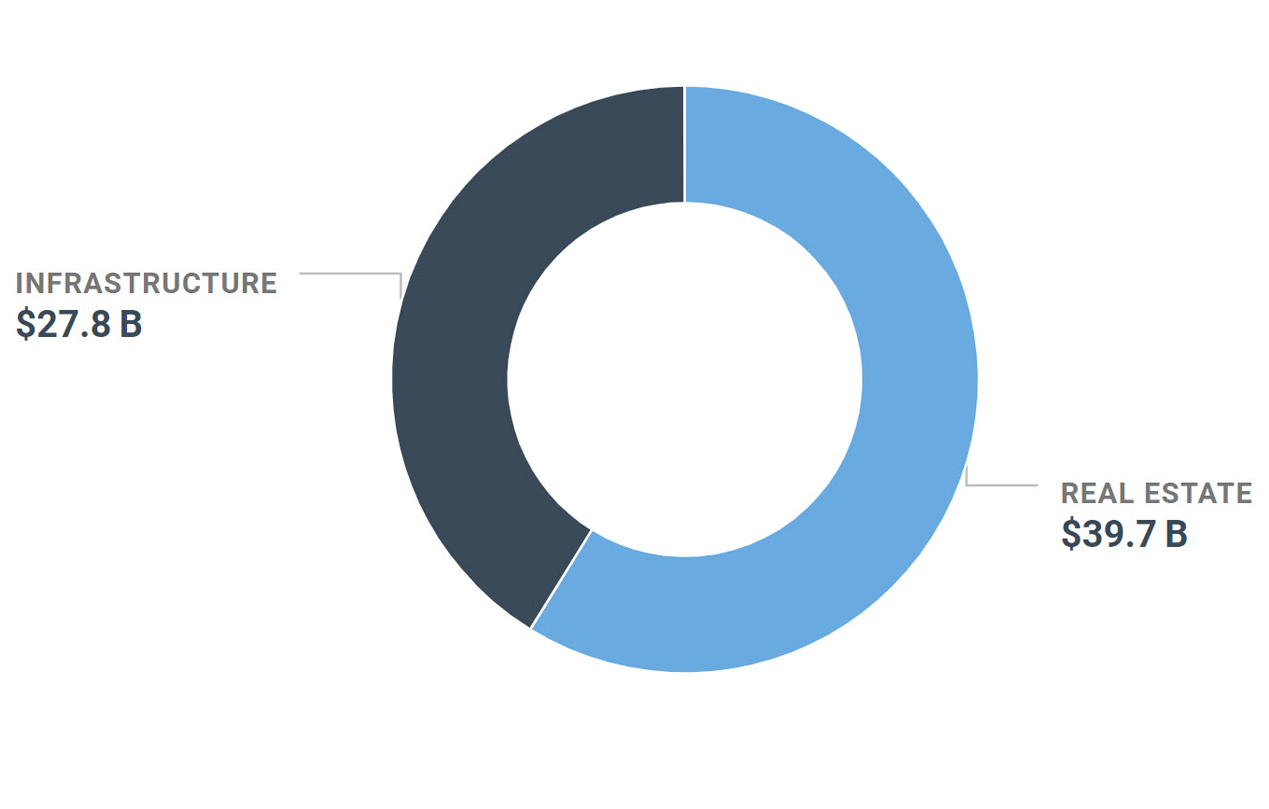 true
Long-term partnerships
We forge partnerships that
drive performance and

progress.
Key partnerships and investments around the
world in
2019
true
&nbsp
DP WORLD
Infrastructure partner since

2016
New investments in ports in Chile, Australia and the Dominican Republic through our

platform
&nbsp
PIRAMAL ENTERPRISES
Strengthening the partnership established in

2017 with this major financial and industrial group in

India
Acquisition of convertible securities valued at US$250

million issued by the company to support its

growth
&nbsp
ICAWOOD
New strategic partnership with ICAMAP, a European real estate fund

manager
Launch of a €1.6-billion fund to

develop next-generation low-carbon-emission offices in

Paris
&nbsp
CREO FAMILY OFFICE SYNDICATE
Partnership with this public organization based in New

York, comprising over 80

family offices
Objective: seize and create investment opportunities in the sustainable economy
&nbsp
SANFER
One of the leading independent pharmaceutical companies in

Mexico
US$500-million investment to support its strategic growth in

Latin

America
&nbsp
LIGHTSOURCE BP
World leader in the funding, development and long-term operation of solar energy

projects
£150-million loan to create a

financing platform for solar

assets
&nbsp
SYDNEY METRO
The largest public transportation project in

Australia
$150

million to acquire a 24.9%

stake in a public-private partnership contract for

trains, systems, operation and

maintenance
&nbsp
PLP
Strengthening industrial real estate investments in the United

Kingdom
Acquisition of four development projects through the PLP

platform, which was launched in

2017
Growing Québec's economy and companies
We leverage the strength of our entire team to
build businesses that will

grow and stand

out in the new

economy.
$47.6 B
Total assets
in the Québec private sector
$3.3 B
New investments and commitments in
2019
More than
750
Number of companies we partner with, including some 650
SMEs
155%
Increase in assets in the Québec private sector over the last 10
years
A three-fold approach in
Québec
Growth and globalization
We finance and support Québec companies of all sizes in their growth projects, both in Québec and internationally.
Innovation and the next generation
We contribute to developing new economy ecosystems and support innovative companies, in addition to stimulating entrepreneurship.
Impactful projects
We design, develop and finance major infrastructure and real estate projects and we support the renewable energy sector. These projects generate tangible benefits for Québec's economy.
Key accomplishments in Québec in
2019
true
&nbsp
CDPQ–AI FUND
Creation of a $250-million fund for Québec companies specialized in artificial intelligence

(AI)
Objective: drive their growth and

the commercialization of artificial intelligence

solutions
&nbsp
DIALOGUE
Technology platform providing health care services for

companies
Participation in a $40-million round of financing through the CDPQ–AI

Fund
&nbsp
TALENT.COM (formerly NEUVOO)
One of the fastest-growing job

sites in the world, with
70-million visits per

month
$53-million investment through the CDPQ–AI

Fund
&nbsp
RÉSEAU EXPRESS MÉTROPOLITAIN (REM)
Some 26

simultaneous work sites, including 10

stations under

construction
First train traffic tests planned for

the end of

2020
&nbsp
ALAYACARE
Cloud computing platform for home health care

providers
Investment alongside other partners to

support its acquisition

strategy
&nbsp
SOLLIO COOPERATIVE GROUP
Financing the acquisition initiatives of this agri-food company, the largest in

Québec, formerly called La

Coop

fédérée
Joint investment with the Fonds de solidarité FTQ, Fondaction and Desjardins

Capital
&nbsp
NUVEI
Co-investment with Novacap in this major supplier of payment technology to

acquire the British group SafeCharge International
&nbsp
MONTREAL EATON CENTRE
Progress in the transformation of the user experience, including the completion and opening of the Time Out Market, where 16

of the city's best chefs

work
Our clients: Quebecers
We work hard every day for our depositors' funds and the Québec economy to flourish.
Our main depositors
CDPQ at a glance
Our main depositors
true
Stewardship investing
We believe sustainability is a fundamental aspect of investing in companies and
projects.

By focusing on stewardship investing, we can seize business opportunities and create innovative projects to generate both performance and positive change.
Compelling results in
2019
Increase in our low-carbon assets
since
2017, including $6.9
billion in
2019
- 21%
Reduction in our portfolio's carbon intensity
since
2017, on
track to achieve our objective of a 25% reduction by
2025
0
Objective of net GHG emissions
for our overall portfolio by
2050, as
a result of our commitment to the Net-Zero Alliance, an initiative co-founded by CDPQ and supported by several global
investors
+$6 T
Assets under management by the investors who are members of the Investor Leadership Network co-founded by CDPQ to address issues such as the infrastructure deficit in growth economies and diversity in the investment industry
true
Previous annual
reports

Our website also contains our annual reports for previous exercises.

See all annual reports
true